At Audi Coral Springs we strive for superb customer service, here are some of these moments captured by our beloved customers:
September 2012 Bret Macy (General Manager) and
Matt Waller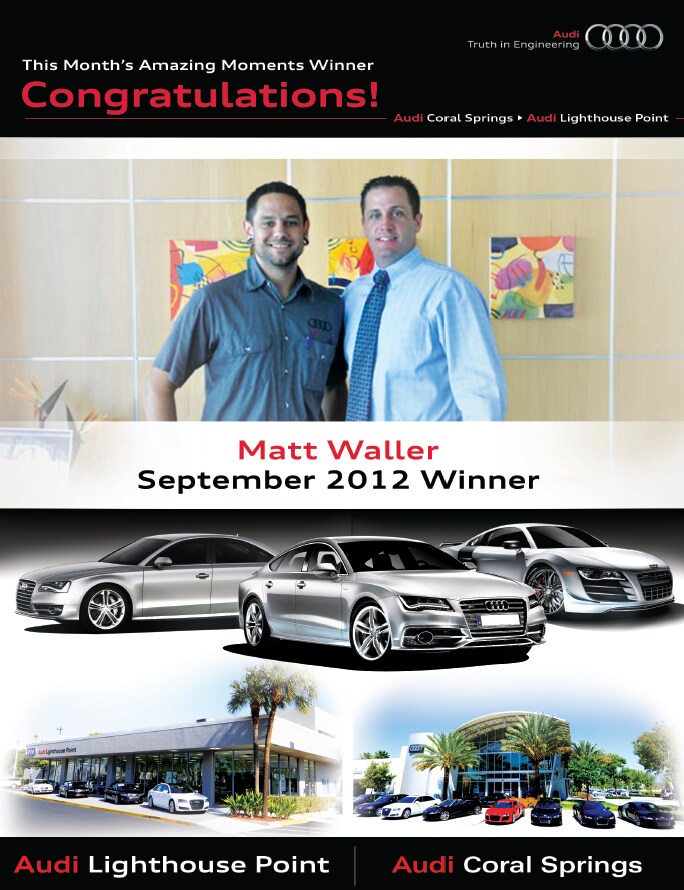 Congratulations to Matt Waller on winning Audi Coral Springs/Audi Lighthouse Point Amazing Moment contest for September 2012!
While out on an Audi assist call, Matt was approached by two members of BSO in need of assistance. When he was finished with his Audi client, Matt asked how he could help and the sheriffs explained that they had to a repair a tire on their personal vehicle and their jack was not working to lift it. Matt carried his jack across the parking garage and up to the second floor to assist the two sheriffs. The sheriff called Bret to personally thank him for having a great team.
Congratulations Matt on your AMAZING MOMENT!
Stay tuned for the October winner. Don't forget to submit your Amazing Moments to lgoldstein@audicoralsprings.com
May 2012 Bret Macy (General Manager) and Steven Kincaid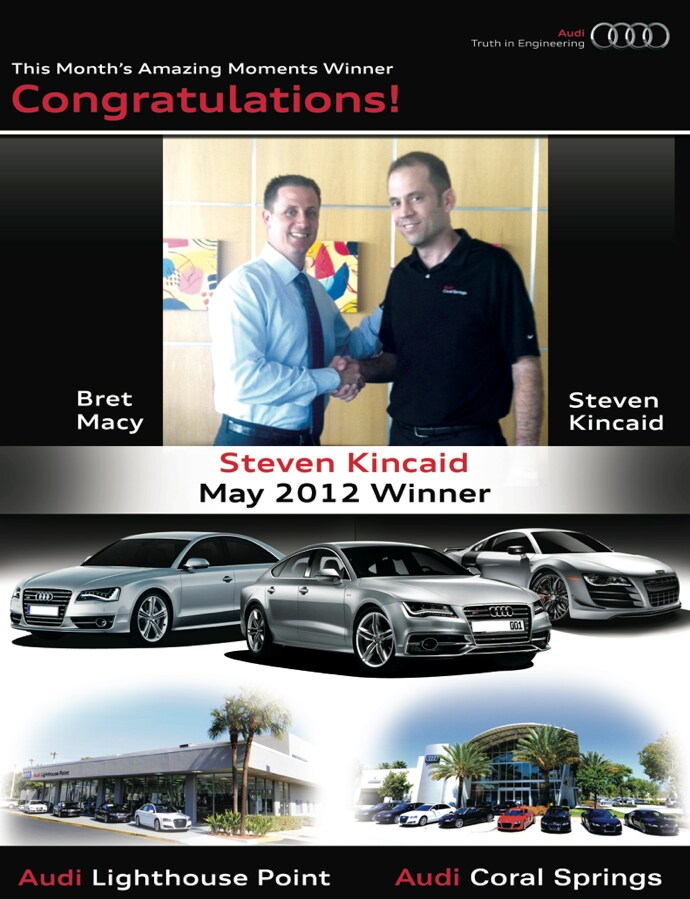 On May 15th, Steve Kincaid sold a vehicle to a customer who lives in Florida, but her father lived in NY. Steve sent his paperwork via FedEx and it was delivered to someone else. The customer was furious and told his daughter that he wanted to cancel the deal. Steve immediately contacted FedEx and informed him that it would be 24-hours, before they could start locating the missing package. Steve took it upon himself to locate his customers address on Google Earth in attempt to identify his neighbors. He was able to determine that there was an HSBC bank located next door to his customers home. Steve contacted the bank and was told that they were in possession of his customers package. His customer received his package and still purchased the vehicle for his daughter.
CONGRATULATIONS STEVE!
April 2012 Bret Macy (General Manager) and Paul Jensen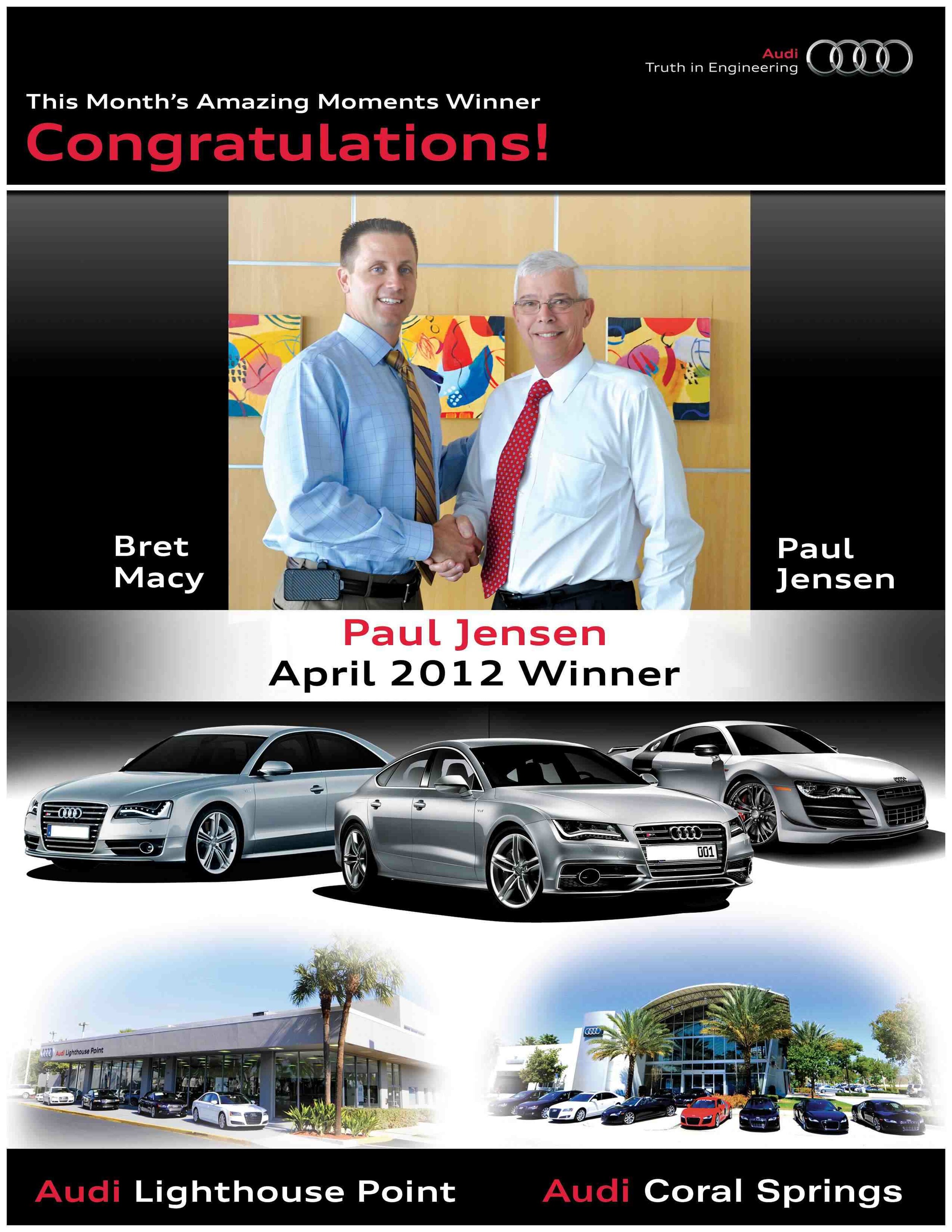 On 4/17 a customer called the service hotline as he had just picked up his car from service and he had left his briefcase in the trunk of his loaner vehicle. It was after hours, the dealership was closed. The customers tax returns were in his briefcase and they needed to be mailed out by midnight that evening. Paul drove to the dealership from Jupiter, he located the loaner vehicle that the customer was driving, got his briefcase and he was able to send his taxes in on time thanks to Paul!
CONGRATULATIONS PAUL!
March 2012 Bret Macy (General Manager) and Alan Kirschman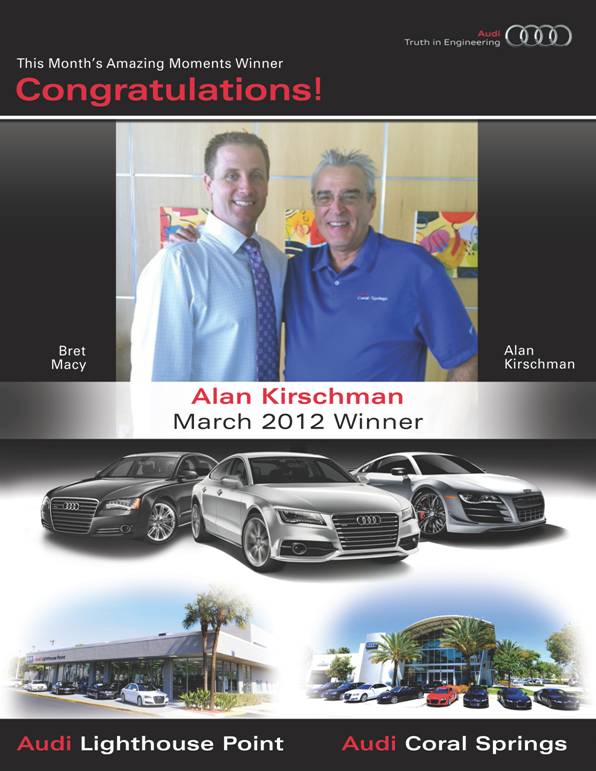 On Thursday March 8
th
, at approximately 12:35am, Alan Kirschman was sleeping when he was woken up by a phone call. It was a previous customer of his. Alan's customer was in North Miami at a Walgreens when his Audi A6 was stolen right off the parking lot. Alan told his customer to sit tight and he would call him right back. Alan has a great relationship with our lender and called them right away. The first thing they said to Alan was "are you crazy?!", but after explanation, they went into the computer system and were able to give Alan the exact address of the cars location. The vehicle had made its way to Opa Locka at the time. Alan told the lender that he will be giving their number to the police just in case the car became mobile again they would be able to track it. Alan called back his customer, informed him of the address and he was shocked Alan was able to know that information. Alan explained to him he had LoJack in his vehicle. The police were able to track the vehicle in a timely manner and no damage was done other than a few items missing. Alan's customer called him back with such gratitude and appreciation for his assistance.
___________________
February 2012 Bret Macy (General Manager) and James Edmonds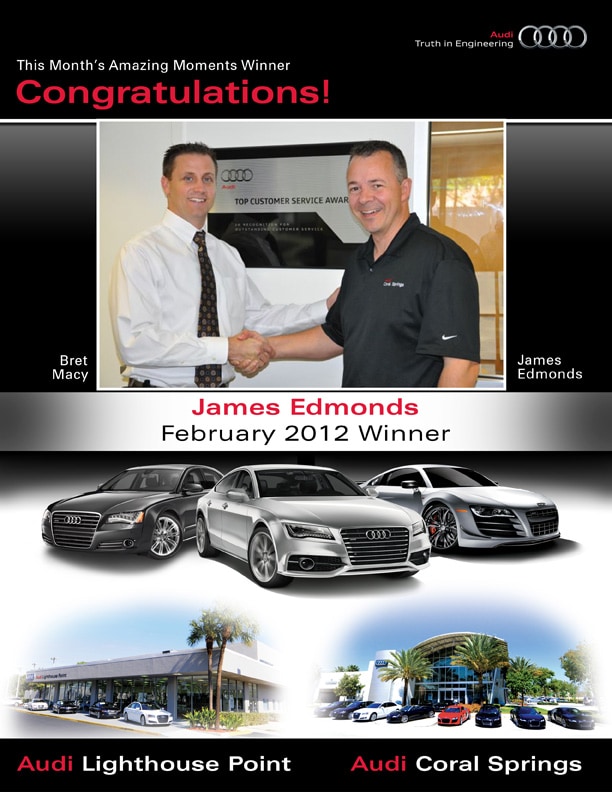 On February 1st, James attended the Rolex 24 hours of Daytona Race to see the new Audi R8 LMS cars compete. While at the race, James received a call from one of his A8 customers who had been stranded on the side of the road with an overheated engine. The customer's vehicle was towed to a garage, but he was not comfortable with leaving his vehicle there as he was going to be heading out of town. James suggested that he take his vehicle to the nearest dealership which was Continental Motors in Melbourne. James gave his customer the number to roadside assistance and told him to request a tow to this dealership. James called the dealership and spoke with a service advisor to inform them about the situation and asked that his customer be provided with a loaner vehicle when he arrived. James' customer got his car picked up, towed to the dealer and was able to drive away in a loaner vehicle his trip while the car was being repaired!
James had an AMAZING 3 submissions for February !
CONGRATULATIONS JAMES!

"Although my Audi A8 was bought at the Audi Coral Springs, I live on Miami Beach and therefore was looking into an Audi service dept. closer to home to begin a relationship with. It was thru an email about my warranty that I spoke with the Coral Springs Internet Manager Gino Walsh. To my delight he won me over to his service dept. by rolling out the red carpet! He explained with enthusiasm that my Audi A8 purchase entitled me to a FIRST CLASS CONCIERGE SERVICE. And boy did I get it! My (amazing) side assist system had failed and I wanted it repaired. Gino suggested and arranged for my car to be picked up at my home and a courtesy A6 brought over... via FLATBED. Incredible! Then Luan, the Service Manager personally took down the notes on what to check on the car, like the gas tank flip door, giving me a problem. Steve, the Service Advisor then called to say the job was done and they had even reconditioned my wheels in a complimentary program. WOW! All in all, it was a remarkable team that unfolded this "Flagship" program in my first? experience servicing my A8. I can't wait for the 5,000 mile check...!!! I am impressed and grateful. Obviously Coral Springs Audi went the extra extra miles for me!
"
Ana A - 2/15/2012