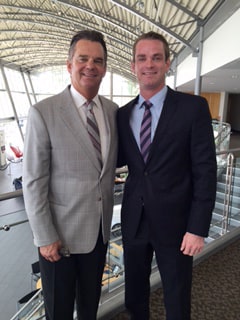 Bruce & Connor Qvale

A FAMILY LEGACY RISES IN THE EAST
Just two short years after opening its doors as Audi Coral Springs, then Audi Lighthouse Point, Qvale Automotive Group, a family-owned business based in San Francisco, is preparing to open its third Audi Dealership in Florida. With plans to build and launch Audi Fort Lauderdale by the end of 2015, the East Coast expansion of this family's rich and diverse heritage in the automotive industry is aggressively underway.

1947
Qvale* is the name of one of America's most distinguished automotive dynasties. The family began work in 1947 importing MG sports cars to the US, later adding Rolls-Royce, Jaguar, Lotus, Bentley, Porsche, De Tomaso and Masarati to its portfolio. It has been involved in manufacturing, importing, distributing and retailing cars through two generations.

Early 1950s
Huge Stateside enthusiasm for British cars sees British Motor Car Distributors (BMCD), as the Qvale business is now named, becoming the largest single American distributor of them. The company's portfolio expands to include Austin Healey, Triumph, Jaguar, Jensen, Lotus, Bentley and Rolls-Royce.

1953
Qvale looks to Germany for new and innovative cars to import. He establishes a new concern, Riviera Motors, to distribute the VW Beetle. The Beetle is a gamble in the US, but one that pays off and leads to much wider American distribution rights being granted by the German company. Beginning with the humble Beetle, selling for less than $1600, Riviera eventually handles over 425,000 VWs. 

1964
Qvale enters the Indy 500, banking on a handling advantage for its cars through the use of MG's Liquid Suspension, of which Kjell Qvale is a great advocate. His cars prove to be the best handling of the race, narrowly missing out on a top five finish.

1968
BMCD is awarded wide-ranging American distribution rights by the newly formed nationalized British Leyland, thus continuing the company's reputation for specialist knowledge in British cars and confirming it as the country's biggest importer of them. At the same time, Qvale begins importing a specialist small-volume De Tomaso from Italy. It is called the Mangusta.

1970
Jensen Motors of West Bromwich, England, one of England's most specialized and revered marquees, is bought by Kjell Qvale. He then oversees the introduction of the Jensen Interceptor III, a much improved car. But he has a hidden agenda for the factory, which is revealed two years later...

1972
The launch of the all-new Jensen-Healey sports car, developed by Kjell Qvale and Donald Healey. The car is a success in Britain and America, where it is distributed by Jensen Motors Inc, a subsidiary of BMCD. Qvale also establishes a network of 45 Jensen dealers throughout the US and Canada. 11,000 are sold worldwide before the factory closes in 1976.

1976
Qvale looks to Italy again and sets up a new business to import Maseraties to an enthusiastic American market. Eventually, over 60 dealers are establishes to sell over 5000 of the Bora, Merak, Quattroporte and BiTurbo.

1977
Though the Jensen factory is closed, Qvale maintains a spin-off business, Jensen Parts and Service, to look after existing owners of the cars. From the company springs International Motors, which later obtains UK distribution rights for Subaru and Hyundai.

1970s/80s
By the mid-1970s, Italian sports cars represented the pinnacle of the genre. Capitalizing on the change in market direction, Qvale established Maserati Import Co (1976) and Maserati Automobiles Inc. (1980) to import and distribute the sleek ? and sexy ? sports cars in America. More than 60 dealers were appointed to sell the exotic Maserati Bora and Merak models alongside the luxurious Maserati Quattroporte and BiTurbo models. American enthusiasm for exotic European cars continues to be hugely successful with QAG distribution of Porsche and Audi.

2000s
In 2000 Qvale Automotive Group continued its legacy of cutting edge design and began production of the fabulous new Mangusta in Modena. QAG later sold the rights to the Mangusta to Britain's MG Rover Group. The launch of MG Rover Group's flagship model, the MG XPower SV was based on the Qvale Mangusta, featuring its structure, suspension, engine and gearbox.

2010...
In 2010, the Qvale family expanded to the east coast, opening Audi Coral Springs in Florida. This amazing 66,000 S.F. showroom formerly known as Champion Audi is the largest Audi showroom in the world.  Later in 2010, they opened Audi Lighthouse Point, located just East of Audi Coral Springs.
The Qvale Automotive Group currently owns and operates dealerships for Audi, Porsche, Bentley, Jaguar, Aston Martin, Lamborghini, Land Rover, Honda, Chevrolet and Subaru on both coasts.
Read about how the family legacy began:
NY Times Business Day >