2012 Audi Elite Magna Society Winner

The Magna Society Program honors the best of the best among U.S. Audi dealers. Only 11 dealers in the country qualify for this award and Audi Coral Springs was the only Florida dealership bestowed with this award, for the second year in a row. To earn the award, dealers must meet and exceed:
Customer Service

Business Obectives

Sales Targets

High Customer Satisfaction Scores

Representing the Audi Culture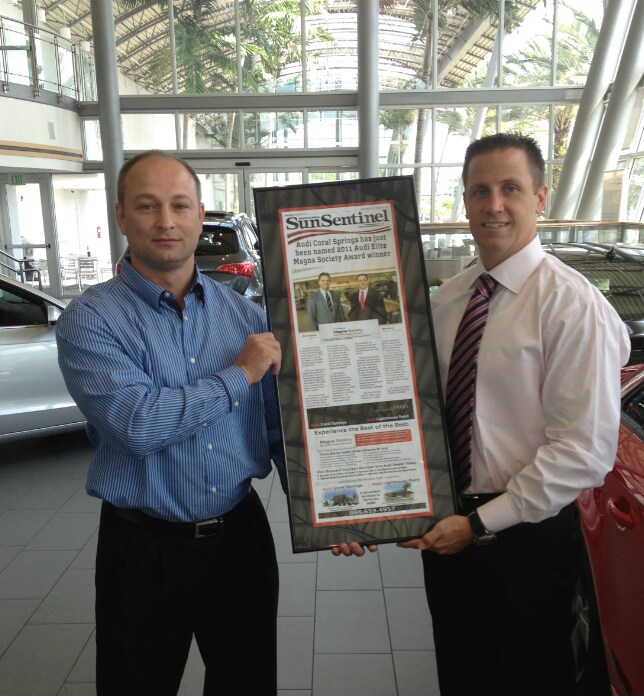 AUDI CORAL SPRINGS EARNS AUDI ELITE MAGNA AWARD 
FOR SECOND STRAIGHT YEAR
FOR IMMEDIATE RELEASE - Coral Springs, Florida (March 15th, 2013) Audi has announced its 2012 Elite Magna Society award winners - the 11 Audi dealerships in the U.S. that best represent the brand's strong customer service standards and overall strong business performance, and Audi Coral Springs has earned this award for the second year in a row.
Audi established the Magna Society and Elite Magna awards to recognize dealerships that consistently perform at the highest level. These dealers exceed sales targets, maintain a solid financial foundation, receive high customer satisfaction scores in both sales and service, and show that their facility and team reflect the progressive Audi culture.
Audi Coral Springs owner Bruce Qvale comments, "We're very proud to receive the Elite Magna award. There have only been a few dealerships to earn this award in back-to-back years, and we're the only dealer in Florida to receive this award in the prior two years. There is a lot of competition in the luxury vehicle market, and this shows that we're doing things the right way for our customers."
Dealership General Manager Bret Macy adds, "This award reflects the hard work our entire team has put in. In management, financing, sales and service. Just like the Audi brand is currently evolving, our dealership is also currently evolving by offering new and innovative solutions for our customers."


Audi had a record year in 2012 with 139,310 units sold in the United States, which represents 9.7% of the imported luxury car segment. The number of dealership locations exclusively selling Audi vehicles increased to 156 in the U.S. – a dramatic increase from the 15 dealerships operating in 1999.
Audi Coral Springs, owned by Qvale Automotive Group, has the largest Audi inventory in North America on display in a spectacular 66,000 square-foot showroom located at 5555 N. State Road 7 in Coral Springs, on U.S. 441 near the Sawgrass Expressway. The dealership is open seven days a week with the largest service loaner fleet in the country. Audi Coral Springs serves the entire tri-county area, from the Palm Beaches to Miami-Dade County. For more information, call Audi Coral Springs at (954) 509-8960 or visit http://www.audicoralsprings.com.