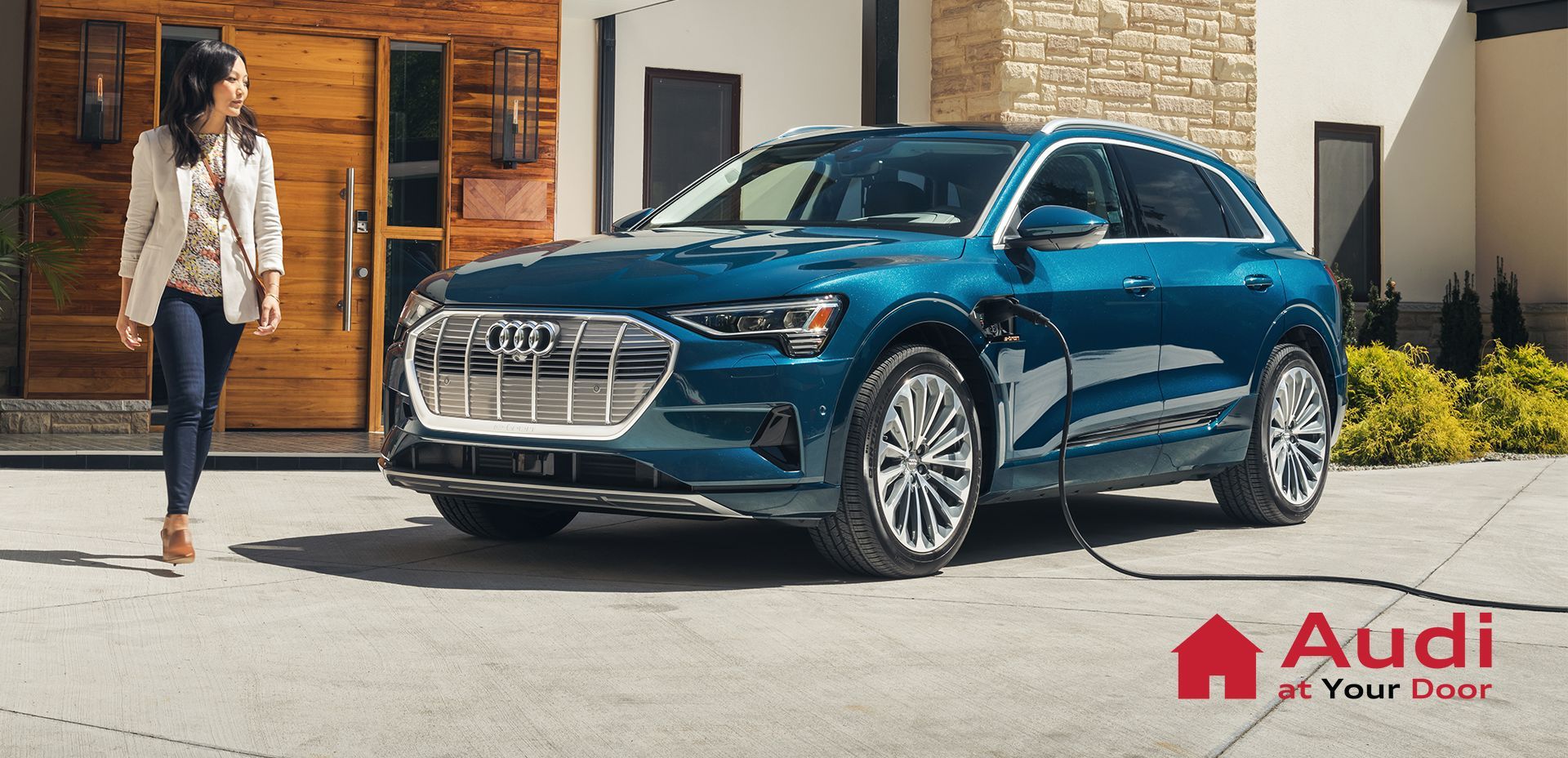 Audi at Your Door 
A personal Audi experience as thoughtfully designed as our vehicles.
We recognize the needs of our shoppers and owners have changed.  Audi at Your Door is designed to give you a premium online shopping experience and peace of mind that your Audi dealer operates with your safety in mind. 
With Audi at Your Door, through participating dealers, you can: 
Have the test drive brought to you 
Appraise your trade-in virtually 
Work remotely to purchase your vehicle and have it delivered directly to your door 
Have your vehicle picked up and returned for service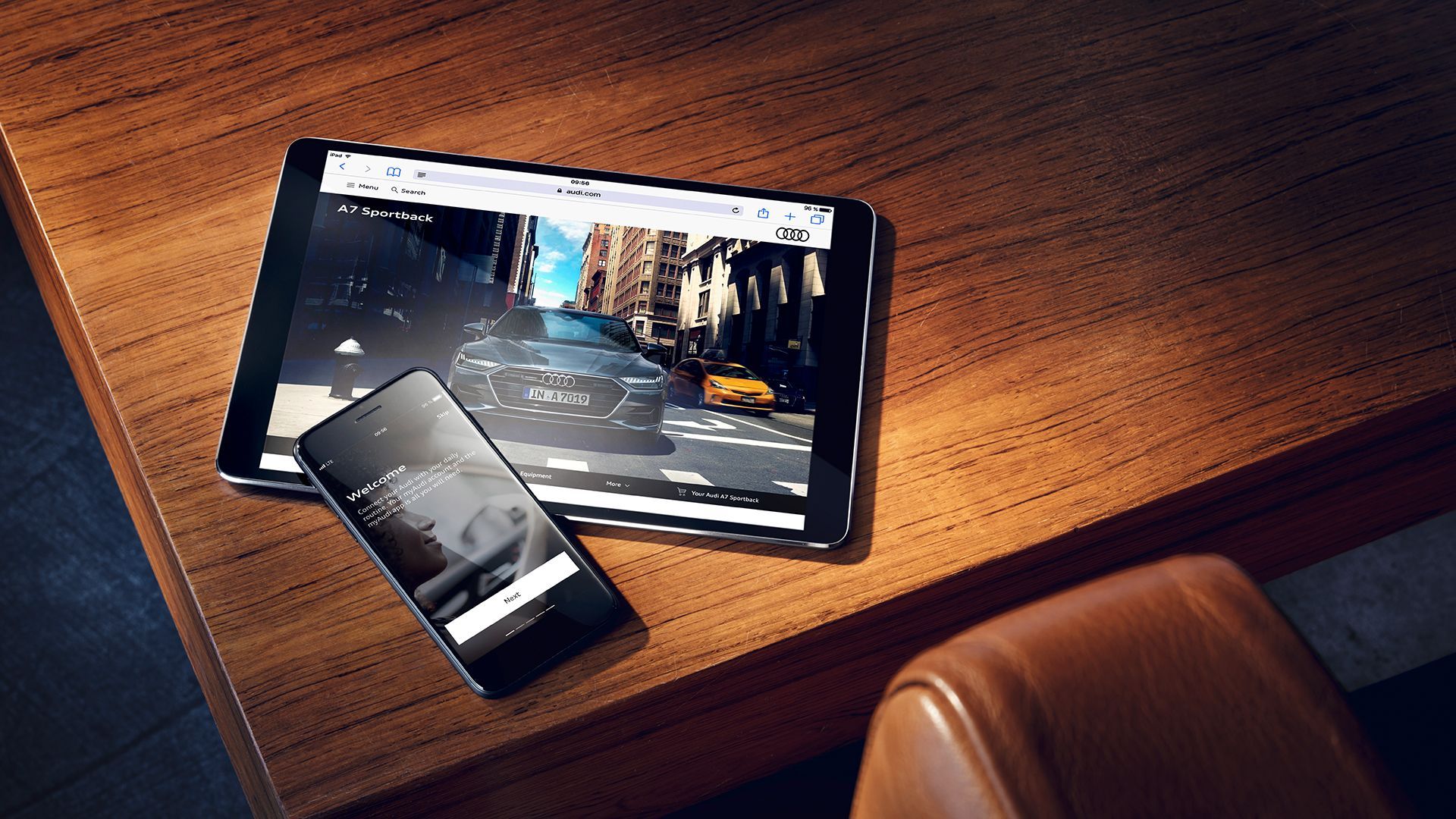 Convenient, virtually and at your door...on your terms
Shop
Work virtually with your dealership to find the perfect vehicle that meets your needs.  See one you like? Your participating dealer will bring it to you to test drive.
Buy
Experience a suite of amenities designed to help you make your purchase remotely with your convenience and safety in mind.
Own
Whether you have just purchased a new vehicle or need your current vehicle serviced, we can come to you.
Please call us for more details on any of these offerings to help meet your needs. Unsure if we're the right Audi dealership for you? Learn more about
why our local Florida community keeps coming back
to us for their vehicle needs.

Hours
Monday

9:00AM - 8:00PM

Tuesday

9:00AM - 8:00PM

Wednesday

9:00AM - 8:00PM

Thursday

9:00AM - 8:00PM

Friday

9:00AM - 7:00PM

Saturday

9:00AM - 6:00PM

Sunday

12:00PM - 5:00PM
Contact Us Today
Do You Have Some Questions About Online Car Shopping? The Team at Audi Coral Springs Has the Answers
Do you find yourself interested in the idea of shopping for your next vehicle online, but you have some questions about the process? Are you wondering about the advantages of shopping for your new car from the comfort of your Delray Beach, FL home? Over the past decade, many folks have found themselves a lot more comfortable with the idea of shopping for things they need online. Cars are no exception to this rule. If you are looking to explore the possibility of shopping for your next vehicle from your Boca Raton, FL home, but have question, you may want to turn to our dealership. Audi Coral Springs, located at 5555 N State Road 7 in Coral Springs, FL, has the answers and resources to give you a great online car buying experience.
Online Car Shopping FAQ
What Are the Steps to Buying a Car Online?
One of the reasons that buying a new vehicle online has become so popular with folks in the Pompano Beach, FL area is that it is so simple. When you want to shop online with Audi Coral Springs, there are only four steps standing between you and your next vehicle. Our dealership is committed to making the entire process easy, so you can bet that you will find shopping for a new vehicle with us quite streamlined. The four steps are as follows:
Can I Custom Order an Audi Vehicle Online?
If you prefer to custom order your new Audi model online, you can do so. We have a form online that you can complete to start the process. Additionally, you can apply for financing and lock in your rates from the comfort of your own home.
How Does a Lease Work Online?
Leasing a car online is simple. When you are selecting your payment option online, you will need to choose the leasing option. Once our finance team gets your car deal approved, one of our finance experts will reach out to you to discuss your lease approval.
Can I Still Use Incentives, Deals, and Special Offers Online?
All of the financing deals, incentives, and special offers that are available at our dealership are also available online. You can shop online and apply them to your current car deal. If you have any questions about any of the savings and promotions going on at our dealership, don't hesitate to contact our sales and finance teams.
Why Should I Buy from a Dealership
Buying from a dealership like Audi Coral Springs ensures that you are going to get the best customer service possible. Also, you are going to get a resource that can assist you during and after the sale. It is nice peace of mind to know that our team is always in your corner.
What Can I Expect After I Buy My Vehicle?
The customer service you got from our dealership doesn't end after the sale. Our service center will assist you with all of your auto maintenance and car repairs that come up. You can count on the same level of exceptional service. 
Shop online with Audi Coral Springs, in Coral Springs, FL, so we can show you just how easy it is to buy or lease a new vehicle online today.